Saturday, August 18, 2018
What makes a good hotel room?
As a frequent traveler throughout the United States and Europe over the past few decades, I thought I'd break down some of the things that make or break a room for me.
I'll pass over the obvious, like location, price and free wi-fi and dive straight in to the room itself. These photos are from a hotel in Cluj, Romania called Lol et Lola. I'd recommend it.
The bed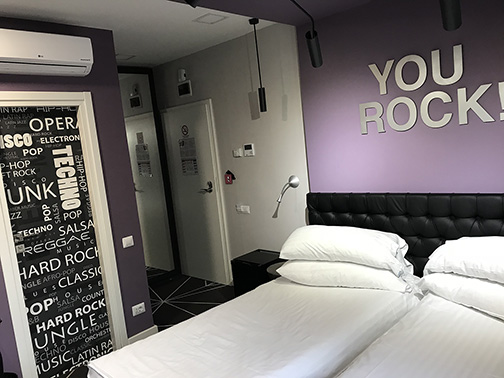 The bed should have a comforter like you'd have at home. The type that seem like they're made out of plastic are for the birds, old school all the way. We had two separate twin beds in this room. Take my advice: if you have a queen or king sized bed at home, invest in two sets of twin sheets, one for each of you. Why have a single large set for you and your partner to fight over when you're trying to sleep? A set of sheets for each of you. Unbelievably better. Just make the bed as if it's two twins and you each have your own set.

The shower
A modern glass enclosure is great. Showers, to me, are very important. I like good water pressure, easily adjustable and constant water temperature and pressure. If a room has the tub type, with a curtain, the arc-type shower curtain rod is a must. There's nothing that kills a hotel room for me like having the shower curtain float in on you during a shower and cling to your side.
Trash
Here's an example of something that drives me crazy. It looks beautiful, but step on the pedal and the whole unit pushes back into the wall and clangs when it opens.
Modern amenities
There's something nice about the feeling of a newer room.
Coffee and tea making facilities
Coffee makers are pretty common in hotel rooms nowadays, but give me nice tea making station–including a kettle–and I'm all set.
Convenience
A permanent book light by the bed and all of the room's lighting controls where they can easily be reached as you're nodding off. What's not to like?
A fridge
Nothing to say here, really.
Modern thermostat
The days of turning knobs on the radiator or on the motel-style, bulky forced air system should be over. I like to set the precise temperature.
Outlets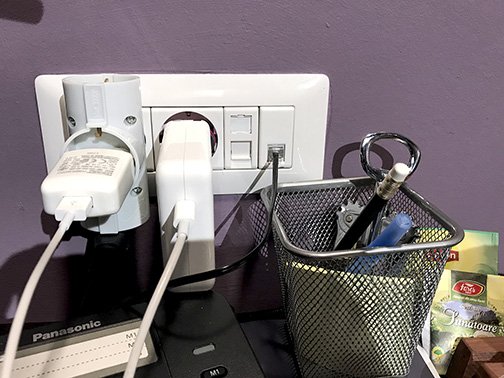 It's the 21st century. Everyone needs easily accessible outlets. We have multiple phones and computers and we don't want to move furniture to get to the power supplies.
No posts have been published yet.